Turn your mini scientists into true artists by creating a pendulum painting work of art. By using the classic reaction between baking soda and vinegar, the painting actually bubbles and fizzes! This makes for an impressive science experiment or science fair project for kids. The end result is a beautiful, vibrant, and unique masterpiece the kids will love creating.
While I was writing my book, AWESOME SCIENCE EXPERIMENTS FOR KIDS, I dreamed up this STEM activity that turned out to be a HUGE hit with my kids.
I drew on inspiration from this salt pendulum art from Babble Dabble Do and pendulum art painting from Kids STEAM Lab, but incorporated a classic baking soda and vinegar science experiment into it.
Awesome Science Experiments for Kids
If you enjoy fizzy pendulum painting you are going to LOVE my new book, AWESOME SCIENCE EXPERIMENTS FOR KIDS. It contains over 100 colorful and creative STEAM activities for kids ages 5-10. I wrote it with parents and grandparents in mind so the instructions are simple and the experiments only require supplies you probably already have at home.
Teachers will love using the simple science experiments in their classrooms, too!
As you can imagine, we do a lot of hands-on science at our home. The activities I publish on this website are only a fraction of all the science projects I do with my kids.
Of all the STEM activities we have done, this is one that was so engaging it kept my kids creating and experimenting for over an hour. At the end we had created such a stunning work of art that my 8-year-old had me take some pictures that we later printed out and mounted on his bedroom wall. He was so proud of the colors and patterns and how it all worked together that he wanted to preserve it.
Getting Ready
*This post contains affiliate links. Please see our disclosure policy.

To make our fizzy pendulum painting we waited for a clear day outside. It's a big, colorful, fizzy mess that is best done outdoors!
Before inviting the kids to play I constructed the pendulum cup. I usually find it's best to do some of the prep work ahead of time so that the kids don't get impatient. I gathered the following supplies:
Clear plastic cup
Pushpin
String
Scissors
I used the hole puncher to make three equidistant holes about an inch below the rim of the cup.
I poked a small hole in the center of the bottom of the cup using the pushpin. To make sure the hole was big enough, I filled the cup with a little bit of water and let it drain in the sink. If the hole is too small for water to drain through you can push a pen or a pencil through the hole to make it a little bit wider.
Finally, I cut three pieces of string about eight inches long. I threaded each piece of string through each of the holes in the cup and tied all three pieces together in the center.
Heading Outside
Once the pendulum cup was ready I called the kids over and explained what we were going to do. We gathered the following supplies and headed outside:
Two chairs
Broom
Tape
Vinegar
Dish soap
We found a level section of our driveway and set up two chairs about four feet apart with the backs facing each other. I slid the broom through the backs of the chairs so that it was suspended a few feet off the ground.
I cut another piece of string and attached it from the broom handle to the strings on the cup. The cup hung down from the center of the broom handle about 12 inches off the ground.
We sprinkled several cups of baking soda on the ground directly under and around the suspended cup. This is why we buy baking soda in bulk!
Finally, I placed a piece of tape on the outside of the cup over the hole in the bottom. We were finally ready to create our masterpiece!
Fizzy Pendulum Painting
We filled the cup about halfway full of vinegar and added a few drops of food coloring and a few drops of liquid dish soap. I wanted to create a rainbow instead of a brown sludge so we stuck with using the primary colors.
We started with red vinegar.
My son pulled the cup back, removed the tape from the bottom, and let it swing freely over the baking soda. I wish you could have heard the cheers and squeals of delight as they watched the pendulum swing back and forth, leaving a trail of colored vinegar behind!
The kids noticed immediately that that baking soda bubbled and fizzed as the colored vinegar dripped down onto it.
We have done several variations of the baking soda and vinegar reaction including making a salt shaker volcano, creating magic hidden treasure molds, designing a fire extinguisher that really works, and making a fizzy color changing chemical reaction. Needless to say, the kids are very familiar with what happens when the two substances mix!
Once the red vinegar ran out we filled the cup again with blue vinegar.
And then yellow.
Then we started over with red vinegar and made layer upon layer of colored elliptical patterns over the baking soda.
Pendulum Color Mixing
We noticed how each primary color mixed to create a secondary color. A lot of green showed up in our pendulum painting just from yellow and blue mixing together.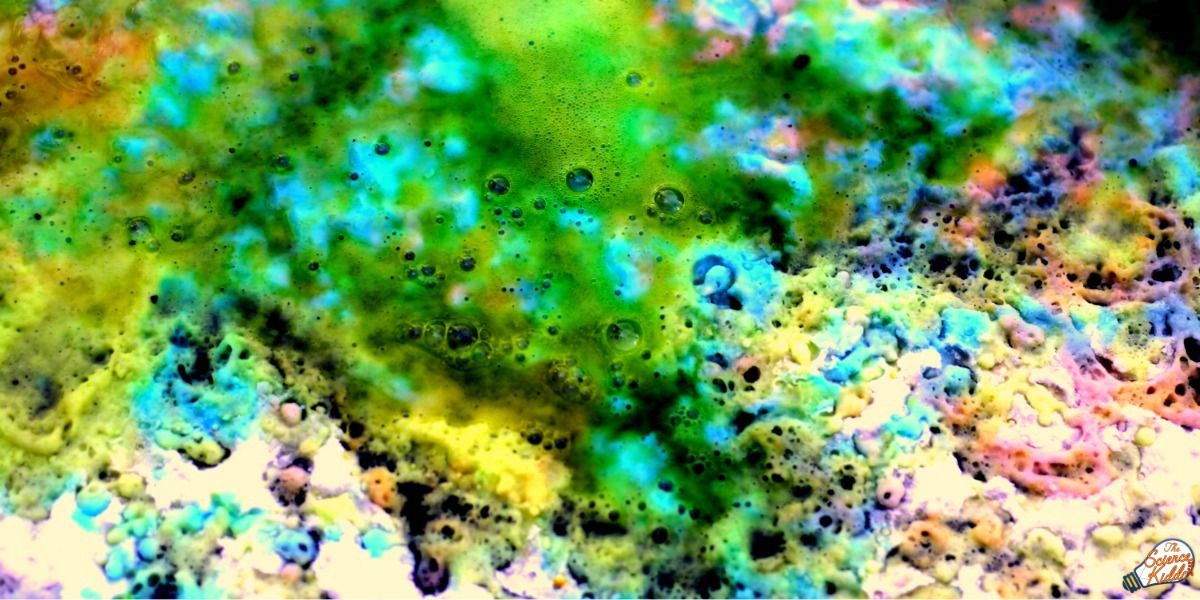 After several trials we had quite a beautiful rainbow of colors on the ground. We even sprinkled more baking soda on the ground to create more layers.
The kids could have continued creating different patterns and colors and textures all day long. They LOVED this activity and were 100% invested in their masterpiece.
Once we were done with our pendulum painting the kids got down on the ground and played in the salty sludge for awhile. They used shovels, buckets, and cups to mix it around and mold it into different shapes. Our artistic science experiment turned into really fun sensory play!
Finally, it was time to clean everything up. I simply moved the chairs and the broom and used the hose to wash our baking soda and vinegar masterpiece away.
Until it rained, there was a whitish circle where the pendulum painting had been. Every time we walked by my five-year-old proudly announced, "That's the true mark of science!"
Pendulum Painting Science
There are several scientific principles that children learn by creating their own pendulum painting.
First, the chemical reaction between baking soda and vinegar produces carbon dioxide gas. The fizzing and bubbling that the kids observed is the carbon dioxide being produced.
Adding liquid dish soap to the vinegar makes this reaction happen more slowly and last longer. The carbon dioxide gets trapped in soap bubbles that produce an irresistible foamy texture.
Kids also learn about color mixing as they watch the primary colors mix to produce secondary colors.
Finally, kids learn about pendulum motion. Without any friction, a pendulum will continue swinging exactly the same distance back and forth forever.
However, since this simple pendulum creates lots of friction between the string and the broom handle, it slows down quickly. As it slows, the distance it swings back and forth decreases, producing really beautiful orbit-like patterns.
By changing the color of the vinegar, layers of different orbits can be seen on top of each other, creating a gorgeous work of art!
More Science Experiments for Kids
If you love this activity, be sure to check out my new book, AWESOME SCIENCE EXPERIMENTS FOR KIDS. It's packed with colorful and creative STEAM (science, technology, engineering, art, and math) activities just like this one!